https://www.warrencountyny.gov/news/free-online-employment-workshops-scheduled-december?fbclid=IwAR3uW0e8FUHnzm4dx9v6UND-9TnP-zUOMURip-S8BOES0dNFe2q3-JRG40E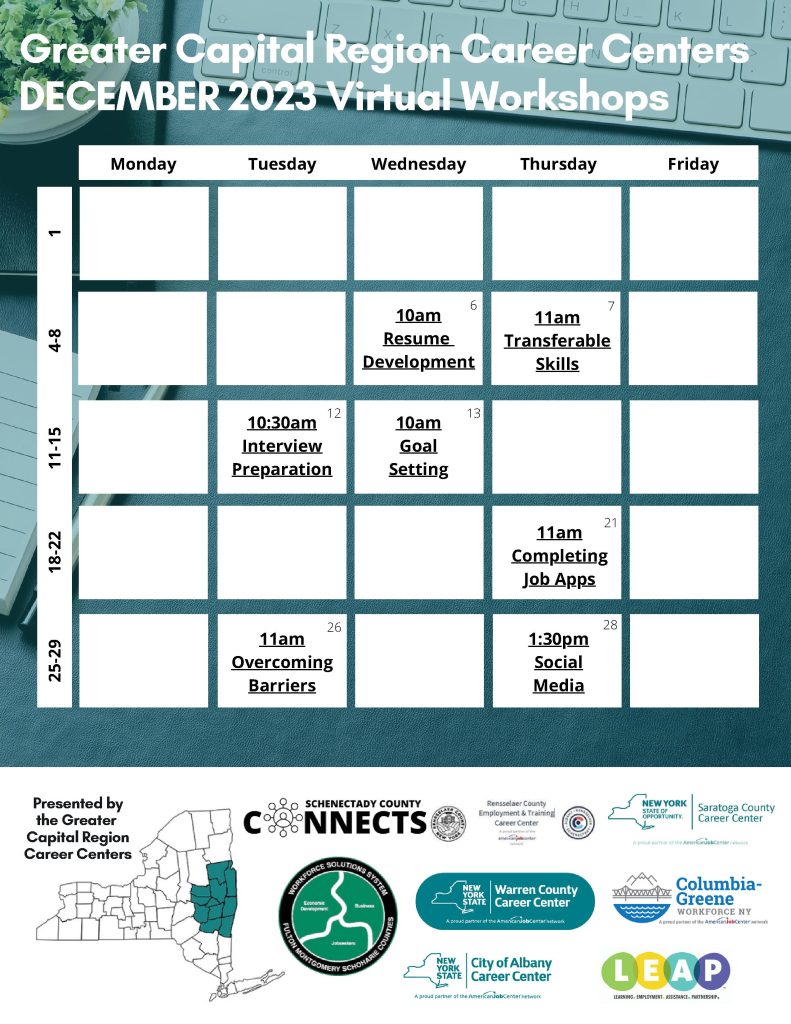 "These classes are part of the monthly offerings from the Capital Region Career Centers, a group of local county and city-based Career Centers and partners that includes Warren County Career Center. The consortium coordinates services to address the workforce needs of the Greater Capital Region by providing a variety of career and workforce resources, training opportunities, and more. Members include Capital Region Workforce New York; Columbia-Green Workforce NY; City of Albany Career Center; L.E.A.P; Rensselaer County Career Center; Saratoga County Career Center; Schenectady County Connects; Warren County Career Center; Workforce Solutions System of Fulton, Montgomery, Schoharie Counties."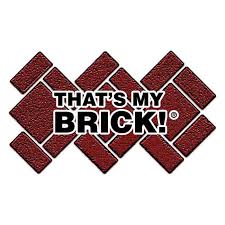 The Richards Library is continuing its "That's My Brick Legacy Project" fundraising program. The library has partnered with "That's My Brick", a company that produces decorative/ commemorative 4″ x 8″ bricks, to create a Legacy Platform/Walkway around the flagpole that stands in front of The Richards Library.
Any person who wishes to purchase one of these bricks can have them inscribed with a person's name, a family name, in memoriam of a loved one or even a favorite family pet. They can also have a graphic included as part of the inscription. The bricks cost $50 apiece, graphic included or not, and would make great gifts for birthdays, holidays, anniversaries, or graduations. Additionally, if a business or organization would like to have a specific logo inscribed on the brick, the company will need a photo-ready, black and white copy of the logo, and they will need to fill out a disclaimer located on the on-line order form. There is an added $15 cost for this service.
Go to the library's web page, www.therichardslibrary.com, then go to the Public Resources tab, and proceed to the bottom of the page. There you will find a link to the on-line order form and a link to all the FREE graphics that you can have put on the bricks. You may also go to: www.thatsmybrick.com/richardslibrary and order there.
If you do not wish to order on-line, the library has paper forms you may use to order. There is no deadline as this will be an on-going fundraiser for the library. If there are any questions, please do not hesitate to call the library at 518-623-3011.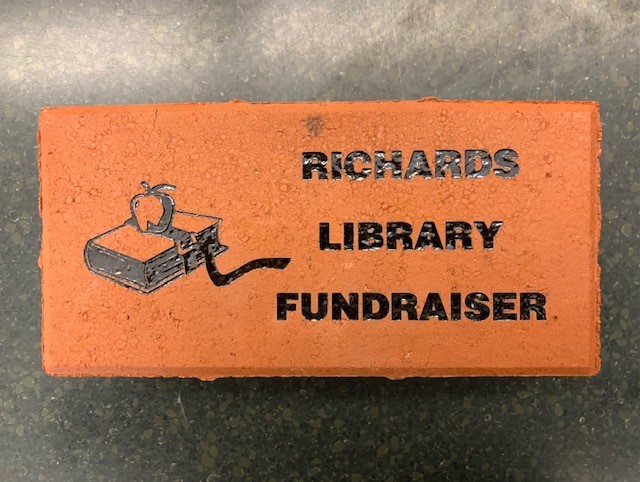 Good Afternoon Patrons and Friends!, The library has purchased a license for a NEW database that we know will improve our patrons' computer savvy. It is called Tech-Talk and you can get to it by coming here to our web page and on the sidebar, located to the right is an automatic link to Tech-Talk (it looks like the picture above). Tech-Talk is a web page database that has tutorials on just about all things related to computers and how to use the various programs such as Word, Excel, Power Point, etc. The videos are easy to understand and follow along. It provides tools for you to do things, like clean up the backgrounds of pictures or even make your own newsletter. The information provided is free for us to use, but please be aware, that some of the products provided may have a minimum cost to use, BUT, there are still plenty of FREE tools for you to use. Tech-Talk is for all ages (if you know the basics of computers, like turning one on!). Also, there are tutorials to show you how to use Tech-Talk…how simple is that??? On the Tech-Talk page you can sign up for a FREE newsletter that will be delivered to your e-mail address weekly with new information for you to try! The best way to learn is come here to our web page, click on the Tech-Talk picture and explore. Also, Tech-Talk can be accessed from any computer by going to: www.Tech-Talk.com and click on the Member Login and enter: richards for the user name and password. Go explore and learn new ways for you to make your computer knowledge grow every week!
Leaving Our Fingerprints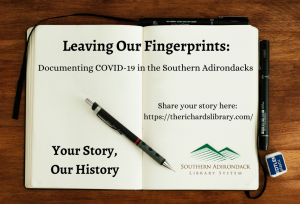 Tech-Talk


[fb_event_widget page_url="https://www.facebook.com/RichardsLibrary/" small_header="true"]