Time: Oct 23, 2021 02:30 PM Eastern Time
You can cook live with Gayatri on Zoom or watch the video provided after the event. *The Zoom link and steps to access it will be added on 10/22*
Printed copies of the recipe are available at the Richards Library!
Upcoming Cooking with Gayatri:
11/04 @ 5:00p Holiday Charcuterie Board *Updated Date & Time*
12/01 @ 4:00p Soups and Slippers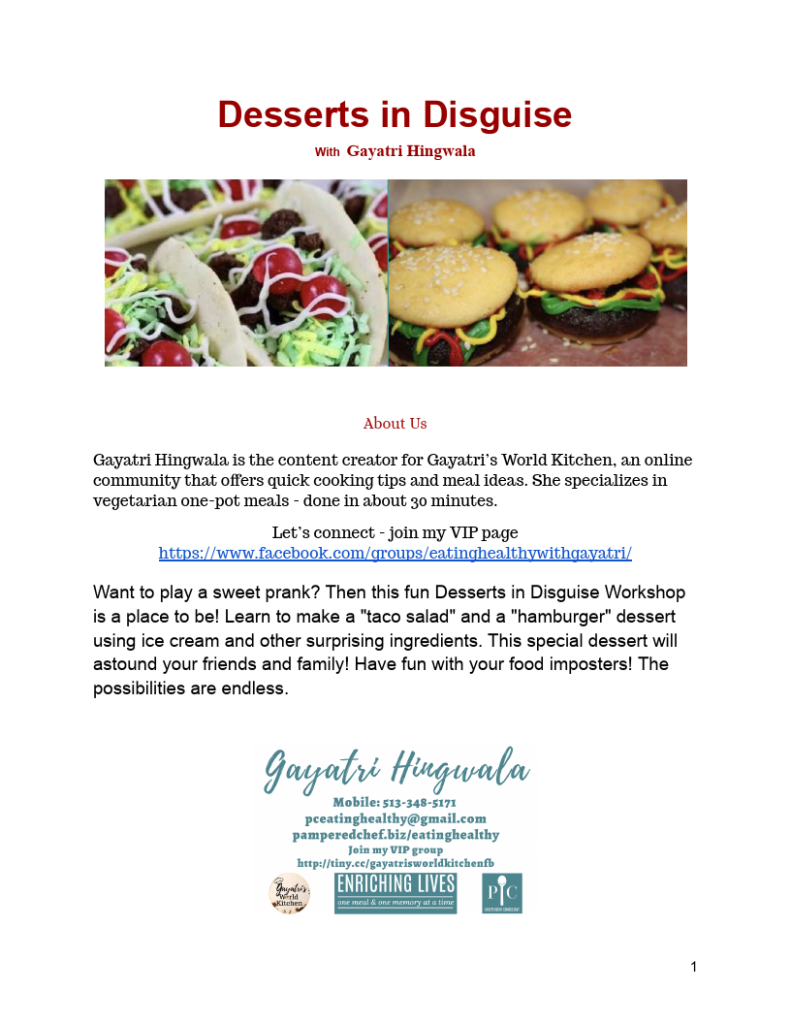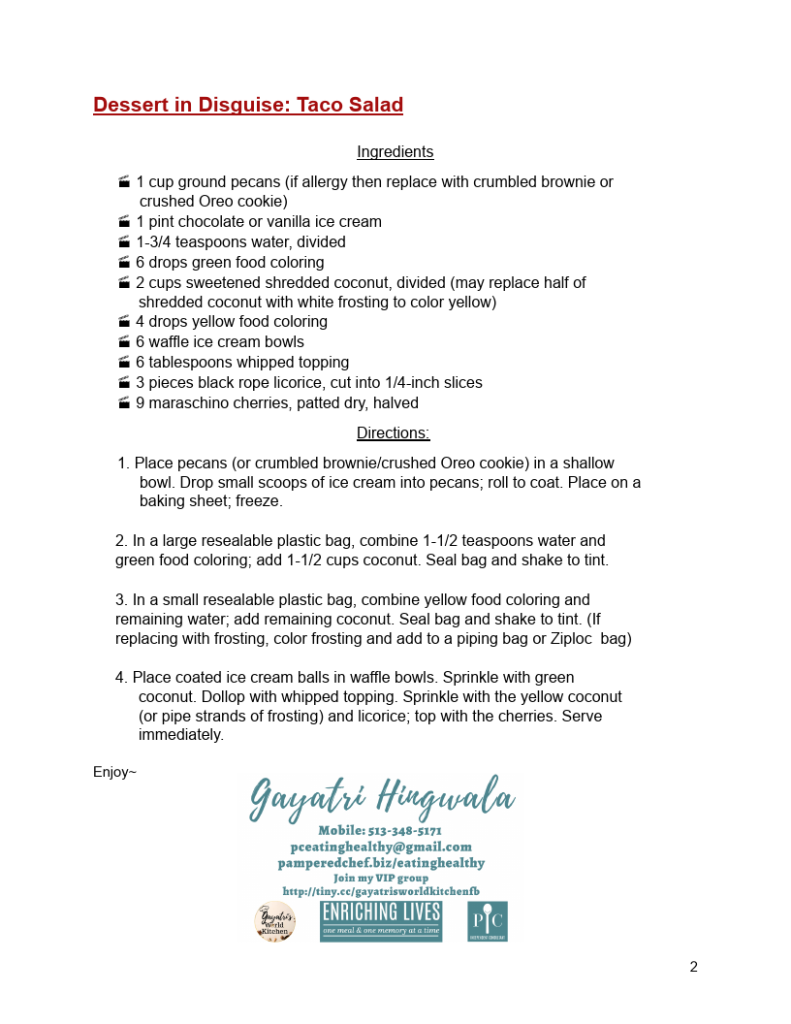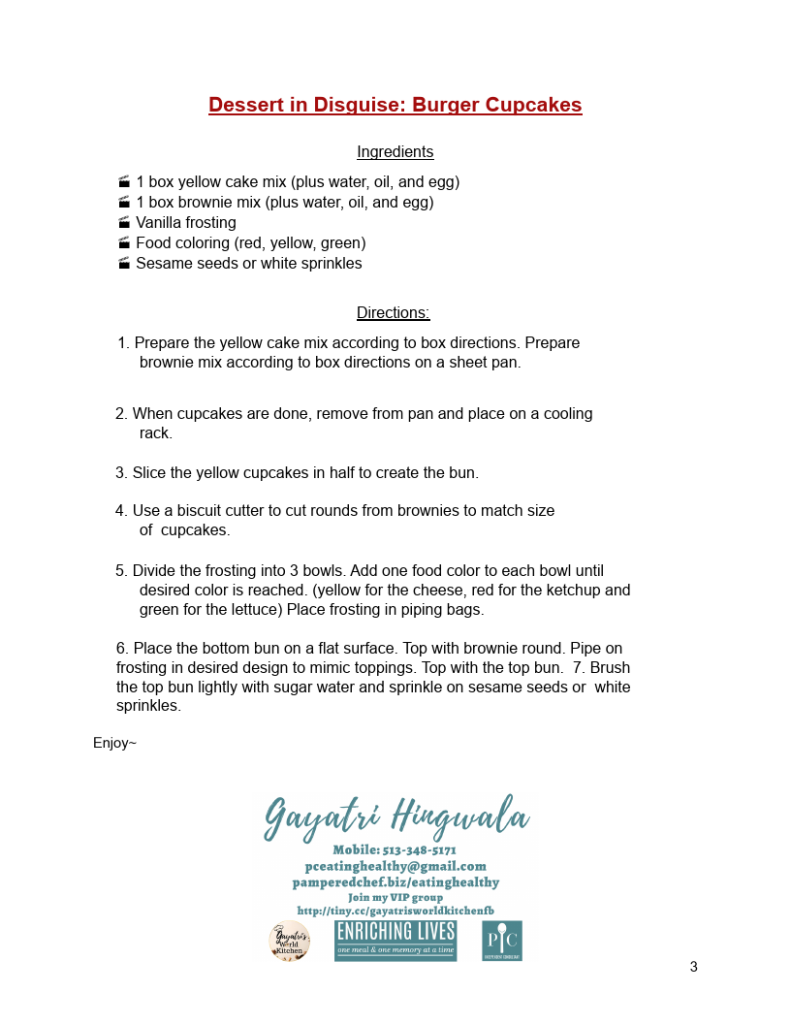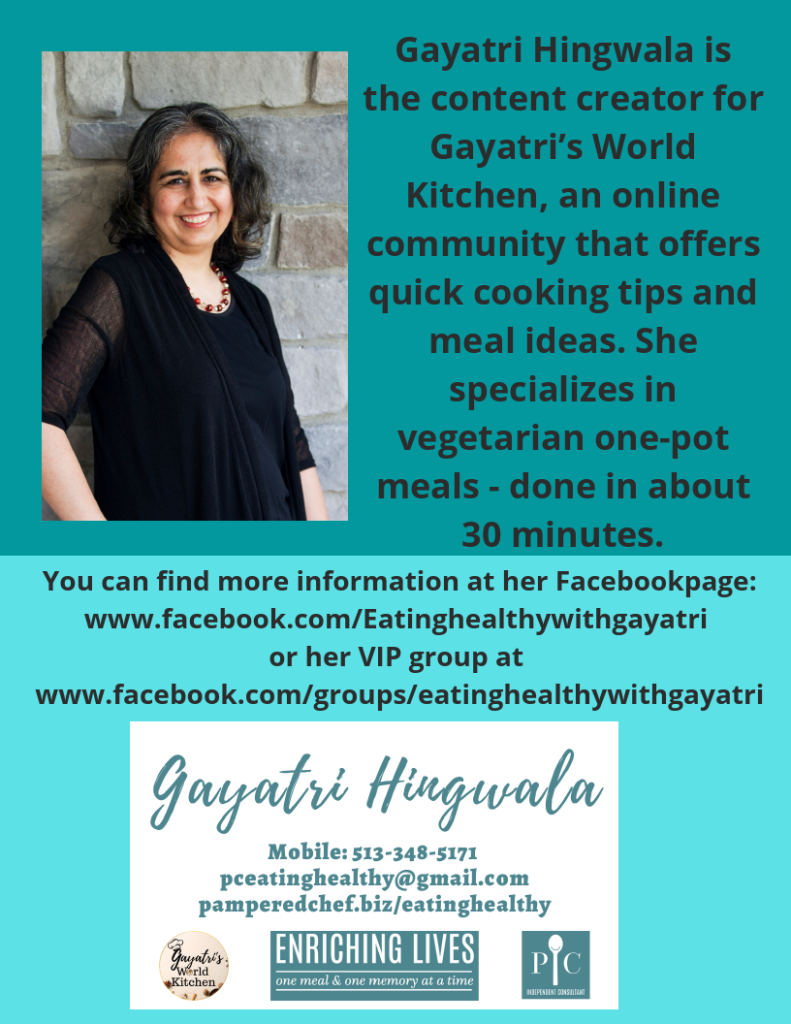 This video will be available for viewing until 10/26/21
Gayatri specializes in vegetarian dishes, but has recommendations for any that would like to add meat.

Upcoming Workshops with Gayatri:
10/23 @ 2:30p Desserts in Disguise
11/04 @ 5:00p Holiday Charcuterie Boards *Updated Date & Time*
12/01 @ 4:00p Soups and Slippers

If you have any questions please reach out to the Circulation Desk at 518-623-3011 or Shelby at sburkhardt@sals.edu. Enjoy! 💚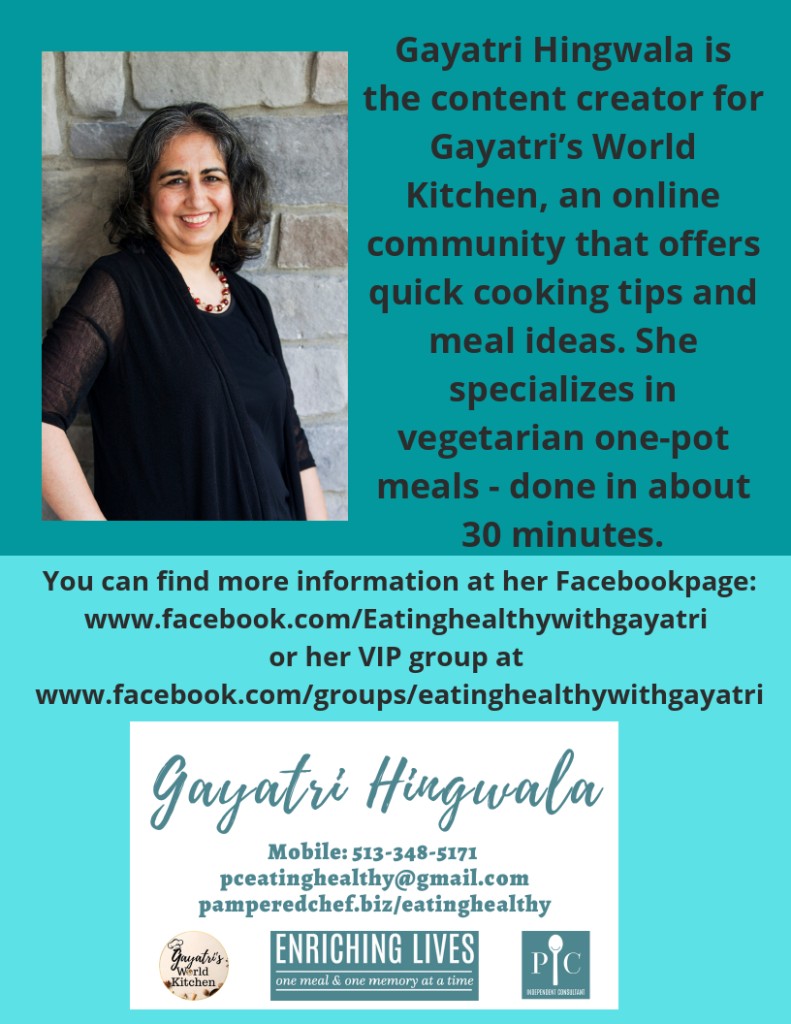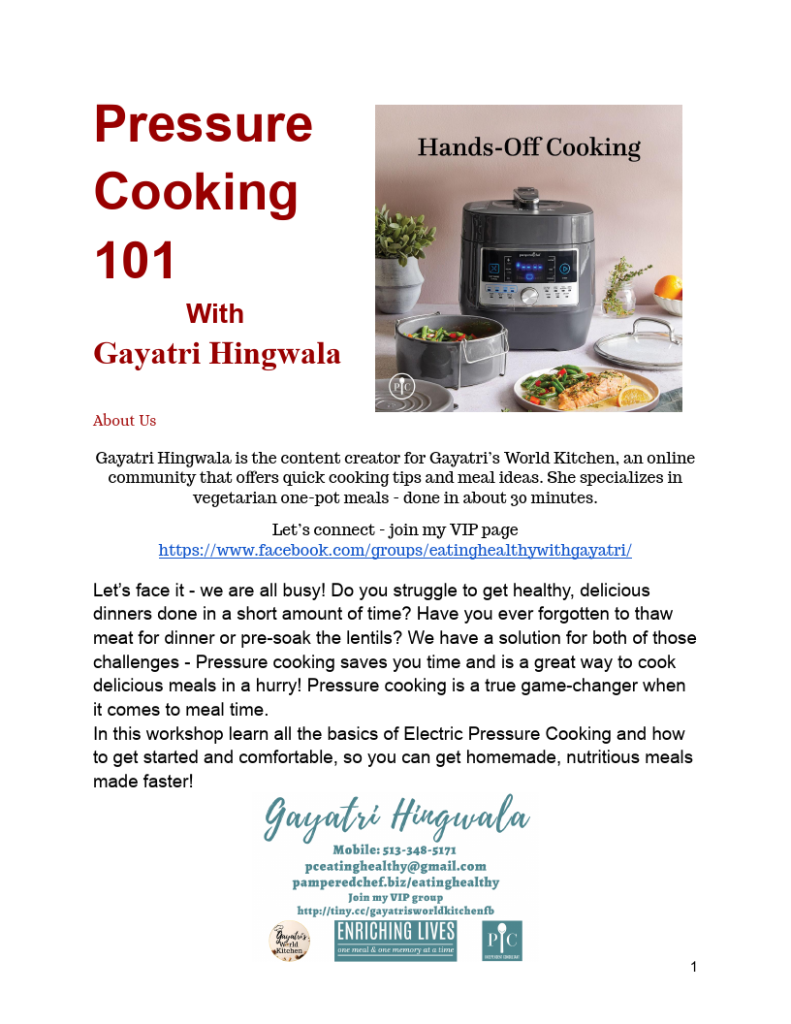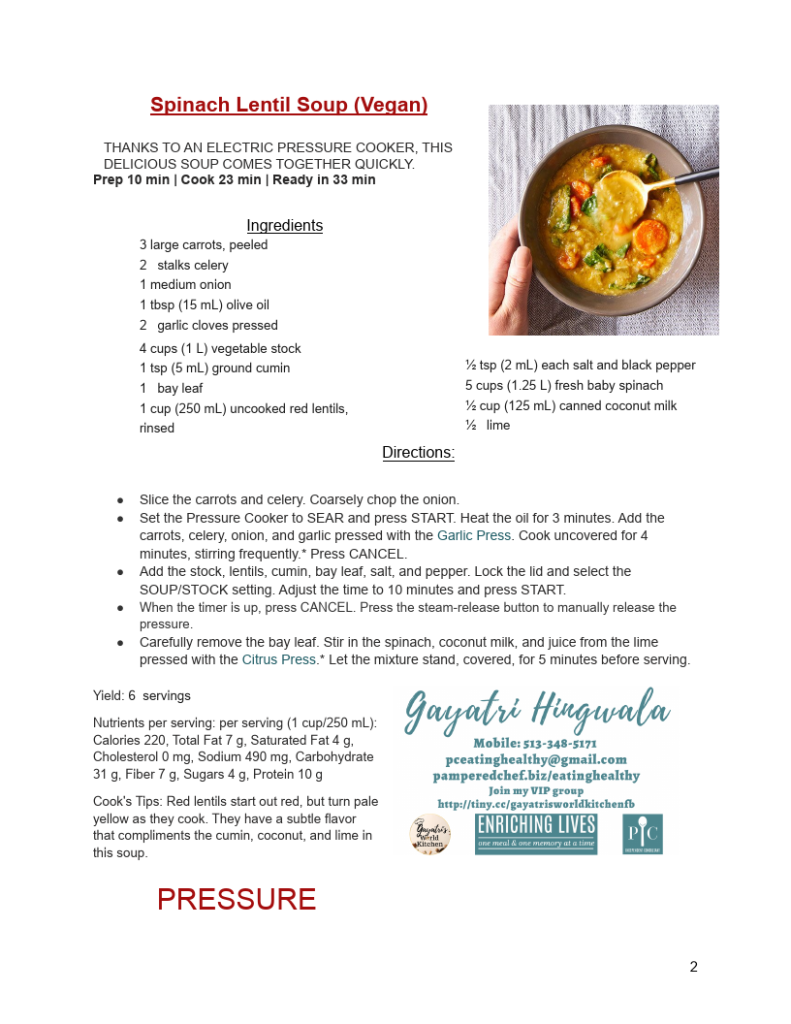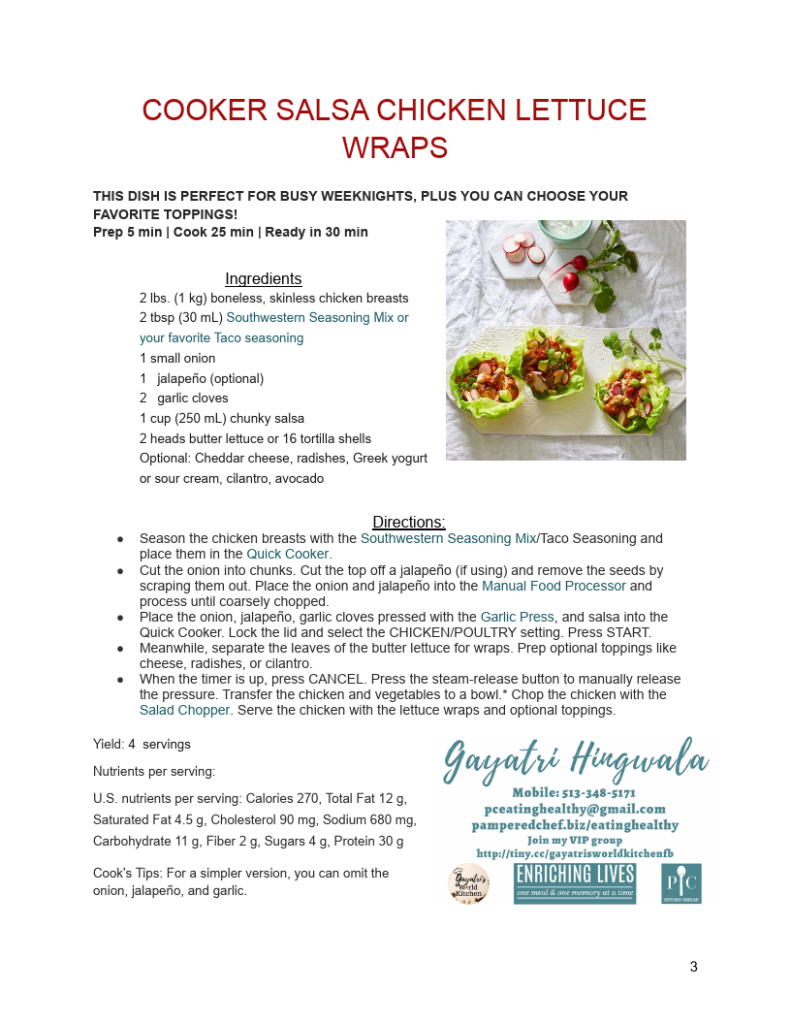 As of today, 3 August 2021, Warren County is now among 23 New York counties where COVID spread is considered "substantial" per U.S. CDC estimates. Warren County Health Services continues to recommend the wearing of masks or face coverings in crowded public places where you do not know the vaccination status of all who are around you. With this in mind, we are asking all patrons and visitors to where face masks while in the Library. This will take effect on Wednesday, 4 August 2021. If we all pull together, we can get past this current spike of the Delta Variant of the COVID-19 Virus. Let's all protect each other and THANK YOU!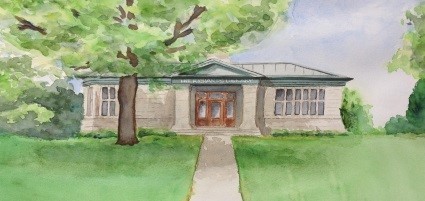 Good Afternoon Patrons and Friends!, The library has purchased a license for a NEW database that we know will improve our patrons' computer savvy. It is called Tech-Talk and you can get to it by coming here to our web page and on the sidebar, located to the right is an automatic link to Tech-Talk (it looks like the picture above). Tech-Talk is a web page database that has tutorials on just about all things related to computers and how to use the various programs such as Word, Excel, Power Point, etc. The videos are easy to understand and follow along. It provides tools for you to do things, like clean up the backgrounds of pictures or even make your own newsletter. The information provided is free for us to use, but please be aware, that some of the products provided may have a minimum cost to use, BUT, there are still plenty of FREE tools for you to use. Tech-Talk is for all ages (if you know the basics of computers, like turning one on!). Also, there are tutorials to show you how to use Tech-Talk…how simple is that??? On the Tech-Talk page you can sign up for a FREE newsletter that will be delivered to your e-mail address weekly with new information for you to try! The best way to learn is come here to our web page, click on the Tech-Talk picture and explore. Also, Tech-Talk can be accessed from any computer by going to: www.Tech-Talk.com and click on the Member Login and enter: richards for the user name and password. Go explore and learn new ways for you to make your computer knowledge grow every week!
On September 27, 2021, Department of Public Service Staff, Niagara Mohawk Power Corporation d/b/a National Grid, and other parties to the proceeding filed a Joint Proposal (JP) with the New York State Public Service Commission (Commission). The JP proposes to increase annual electric and gas delivery revenues over a three-year period from July 1, 2021 through June 30, 2024. National Grid provides service to customers in. 37 counties in Upstate, Central and Western New York State.
To ensure full public participation, the Commission will hold virtual public statement hearings on November 3, 2021 to solicit input and comments from your community regarding the JP. Under New York State Law, the Commission may adopt or reject the JP, in whole or in part, or modify it by adopting changes proposed by participating parties, the general public or the Commission.
The enclosed public statement hearings announcement provides detailed information on how to participate at the public statement hearings and how to submit comments about the JP. Information about the case, including a copy of the JP, can be found at www.dps.ny.gov. From the homepage, click on "Search," and enter the associated case number (20-E-0380 or 20-G-0381) in the "Search by Case Number" field
.To register electronically: Participants who would like to provide a statement and will log in to a hearing electronically should visit www.webex.com by the date and time indicated above, click "Join" at the top right-hand corner of the screen, enter the appropriate event number listed above, and provide all requested information.
When logging in to participate in a hearing at the appropriate date and time, participants should visit www.webex.com, click "Join" at. the top right-hand corner of the screen, and input the appropriate event number listed above. Participants will be asked to "select audio system." It is recommended that participants opt to have the system "call me" or "call using computer." The "call me" option will require participants to enter their phone numbers.
To register by phone: Any participant who is not able to log in to a hearing electronically may participate by phone. Call-in participants wishing to make a statement at a hearing must register to do so by the date and time indicated above by calling 1-800-342-3330, following the prompts to the appropriate hearing and then providing the following information: first and last name, address, and phone number.
PLEASE TAKE FURTHER NOTICE that virtual public statement hearings will be held before ALJs .Ashley Moreno and James A. Costello, as follows:
DATE & TIMES: Wednesday, November 3, 2021
1:00 P.M. Event Number: 2333 739 2921; Password: Nov3-lpm; Phone Access: 518-549-0500; Access Code: 2333 739 2921
6:00 P.M. Event Number: 2338 005 4081; Password: Nov3-6pm; Phone Access: 518-549-0500; Access Code: 2338 005 4081