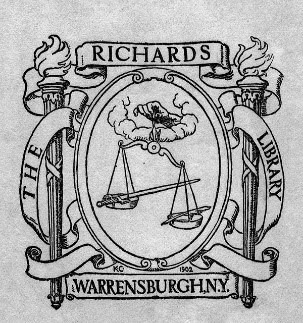 The Richards Library is searching for a highly motived, customer service-oriented individual to fill a vacancy for a part-time Library Assistant.  All candidates should be a high school graduate with some college, which is desired but not mandatory.  Applicants should have an average or above competency in computer skills, good communication skills, both written and oral and experience interacting with the public.  The position, currently, is for 22 hours per week on an alternating schedule, starting at $11.80 per hour.  All interested persons should submit a resume, with references, to: msullivan@sals.edu by 16 October 2020.
After going through our first day of opening up for computer usage, fax and copying services, we are streamlining our computer usage appointment times to 1 hour . Our days and hours are still the same for usage: Tuesdays and Thursdays, from 10 AM-2 PM…please arrive at least 5 minutes prior to your appointment so we may ask some health questions and take your temperature. Those people who have already set appointment times for Thursday, Sept. 17th, your times are still good. Thank you to all and please share this update on all your social media platforms.
STARTING ON MONDAY, SEPTEMBER 14TH, THE RICHARDS LIBRARY WILL BE EXPANDING ITS DAYS, HOURS & SERVICES. PLEASE READ THE INFORMATION BELOW CAREFULLY AND COMPLETELY:
1) A FACE COVERING IS REQUIRED AT ALL TIMES; GLOVES ARE OPTIONAL BUT RECOMMENDED.
2) BOOKS CAN STILL BE DROPPED OF 24/7 AT THE BOOK DROP AT THE LIBRARY AVENUE ENTRANCE.
3) MON-WED-FRI IS STILL BOOK PICK-UP DAYS, BY APPOINTMENT ONLY, FROM 10 AM-3 PM.
4) TUESDAYS & THURSDAY, PATRONS MAY COME IN AND USE OUR COMPUTERS, BY APPOINTMENT ONLY FOR 30 MINUTES MAXIMUM PER DAY FROM 10 AM-2 PM; MASKS MUST BE WORN AT ALL TIMES. PLEASE ARRIVE AT LEAST 5 MINUTES EARLY BECAUSE WE WILL BE ASKING YOU A SERIES OF QUESTIONS AND TAKING YOUR TEMPERATURE WITH A LASER THERMOMETER. IF YOUR TEMPERATURE IS 100° OR ABOVE, WE WILL ASK THAT YOU LEAVE AND SUGGEST YOU SEEK MEDICAL ATTENTION…TO BE ON THE SAFE SIDE.
5) ALSO ON TUESDAYS AND THURSDAYS, PATRONS MAY COME IN ANYTIME, BETWEEN 10 AM-2 PM, FOR COPIES OR FAXES, BUT PATRONS WILL STAY AT THE ENTRY CONTROL POINT, JUST INSIDE THE LIBRARY AVENUE ENTRANCE, WHILE A MEMBER OF THE STAFF MAKES THE NUMBER OF COPIES YOU REQUIRE OR TRANSMITS YOUR FAX WHILE YOU WAIT. WHEN PAYING FOR YOUR COPIES OR FAX, PLEASE, NO LARGE BILLS…OUR FUNDS ARE LIMITED TO MAKE CHANGE. B&W COPIES = $0.15/PAGE; FAX = $1/PAGE. IF YOU SEE SOMEONE STANDING INSIDE THE DOOR, PLEASE MAINTAIN SOCIAL DISTANCING, AND WAIT TILL THEY LEAVE BEFORE ENTERING.
6) ALL PATRONS WILL ONLY USE THE LIBRARY AVENUE ENTRANCE FOR ALL LIBRARY BUSINESS.
7) AGAIN, IF UPON ARRIVING, YOU SEE SOMEONE STANDING INSIDE THE DOOR, PLEASE MAINTAIN SOCIAL DISTANCING, AND WAIT TILL THEY LEAVE BEFORE ENTERING.
WE WILL START TAKING APPOINTMENTS FOR COMPUTERS BEGINNING ON THURSDAY, SEPTEMBER 10TH, FOR THE FOLLOWING TUESDAY & THURSDAY, 9/15 & 9/17 AND FOR LATER WEEKS …CALL 518-623-3011… OR IF YOU HAVE ANY QUESTIONS. THANK YOU!!!