The Board of Trustees of the Richards Library will meet on Tuesday, November 3rd at 10 AM. Members of the public who would like to attend, please use the link below:
Richards Library Board Trustees Meeting
Tue, Nov 3, 2020 10:00 AM – 11:30 AM (EST)

Please join my meeting from your computer, tablet or smartphone.
https://global.gotomeeting.com/join/412055117

You can also dial in using your phone.
United States: +1 (786) 535-3211

Access Code: 412-055-117


New to GoToMeeting? Get the app now and be ready when your first meeting starts: https://global.gotomeeting.com/install/412055117

The next edition of the Next Chapter Virtual Book Club will be held on Monday, November 30th at 4 PM. The book of discussion will be Elena Ferrante's "The Lying Life of Adults" A Zoom link will be provided for those interested in joining the discussion or to just listen in on Monday, November 23rd. See you there!
Effective Tuesday, Oct. 13th, the Richards Library is expanding its schedule. Please read carefully and completely. Please share this on all your social media platforms too!
Mon/Wed/Fri: The library will continue with book pick-up on these days. Pick-ups are by appointment only. We will call you when your items arrive to set up a time for you to come by. If we cannot reach you, we will leave a message for you to call us back at 518-623-3011 to set up an appointment. Appointments will NOW run from 10:20 AM-5:30 PM…this should allow people who get out of work later to get their materials.
Tues/Thurs: The library will be open from 10 AM-4 PM. People who wish to use our computers will be able to make an appointment for 1 hour/day by calling us at 518-623-3011. The last appointment slots will run from 3 PM-4 PM. Walk-ins for faxing and copying will stop at the entry control point at the Library Avenue entrance and a staff member will send your fax or make your copies. Please, NO big bills to pay for faxing or copying; faxing is $1/page and copying is $0.15/page.
As always, please use the Library Avenue entrance for all business. A mask/face covering must be worn to receive any service and must be worn at all times when at the computers. If you have any questions, call us at 518-623-3011.
Leaving Our Fingerprints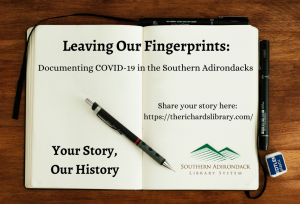 Tech-Talk


[fb_event_widget page_url="https://www.facebook.com/RichardsLibrary/" small_header="true"]